CoolSculpting®

At our Richmond medical spa, we are committed to offering you an array of treatments and procedures to help you achieve your cosmetic goals. CoolSculpting® is an innovative body contouring solution that is FDA-cleared to reduce excess fat around the body. 
What is CoolSculpting®?
CoolSculpting® is a revolutionary treatment that has been designed to reduce fat using cooling technology, creating a leaner and more defined figure. This treatment uses an advanced cooling process known as cryolipolysis to destroy stubborn fat pockets on the body without harming surrounding tissues. If diet and exercise have proved unsuccessful in helping you achieve your weight loss goals, CoolSculpting® could help your figure become leaner and more defined.
How Does CoolSculpting® Work?
CoolSculpting® sends cooling energy to the targeted areas of excess fat, which lowers the temperature of the fat cells, causing them to break down over time. After the cell structure has been thoroughly damaged, the body works to eliminate them through the lymphatic system. Once naturally removed, the fat cells cannot regenerate. Patients can begin to see improvement as soon as three weeks, with final results occurring at four to six months.

What Are the Benefits of CoolSculpting®?
CoolSculpting® makes non-surgical fat reduction possible for patients who have struggled to reach their weight goal through a healthy lifestyle. This gentle treatment has a number of benefits, including:
No recovery period
No incisions or surgery
No numbing agents
Quick treatment sessions
Our patients often report that their treatment session(s) with CoolSculpting® were comfortable and that they were pleased with the outcome.  
Who Are Candidates for CoolSculpting®?
Patients who are interested in CoolSculpting® treatment should be near their ideal weight, but be struggling with getting isolated fat cells to respond to diet and exercise. Areas with stubborn fat pockets may include:
Abdomen
Back
Chin
Hips
Love Handles
Inner Thighs
Outer Thighs
Patients considering a treatment with CoolSculpting® should be in good overall health, which can be determined in the initial consultation. At this time we will discuss your cosmetic goals and review in detail what to expect on your appointment day. This is a great time to ask us any questions you may have about the treatment.
If we determine you are not a candidate for CoolSculpting® treatment, we can work with you to find a more appropriate procedure. We would like to help you achieve your goals and can recommend other services that can be beneficial based on your needs. For instance, if you struggle with a "double chin," KYBELLA® injections may be a good option for helping reduce excess fat in this trouble area.
What is the CoolSculpting® Treatment Like?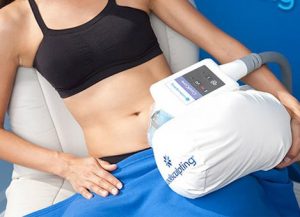 When you arrive for your appointment, a member of our medical staff will bring you to a treatment room to prepare you for your CoolSculpting® session. The treatment itself will vary from individual to individual, based on which area of the body is being targeted. We will not use any anesthesia for this appointment, as the treatment is non-invasive and produces minimal discomfort. The entire CoolSculpting® treatment takes about 35 to 60 minutes to complete per target area. Patients can have more than one treatment session in one day to help them attain their cosmetic goals.
We will first place a gel pad over the treatment area followed by the CoolSculpting® applicator. Our team utilizes a wide range of applicators depending on the size and type of area being treated. The device will then produce suction, and the cooling process will start. For the first five to 10 minutes, this may feel cold, but the area will soon become numb, allowing you to remain comfortable throughout the process. The cold temperature will travel through the surface of the skin and freeze fat cells along the way, while leaving other cells unharmed. By cooling the cells and lowering their internal temperature, they will break down and be metabolized by the body. Once your treatment is finished, you will be able to go about your normal routine with little to no downtime. 
Results from this treatment should be seen within four to six months, and for a more defined physique, multiple treatment sessions may be needed.
Is CoolSculpting® Safe? 
When performed by a qualified aesthetic professional, CoolSculpting® is considered a safe and effective body contouring option. Like most treatments however, some side effects can be expected after treatment, but these are typically minimal and do not last long. In general, mild discomfort and swelling are normal soon after the CoolSculpting® treatment, but these should both quickly fade as your body continues to heal. Your provider will advise you on how to minimize your risk of side effects and get the best possible results from your treatment. 
Although extremely rare, some patients may experience other complications that can make recovery last longer. This includes prolonged swelling, which can take several weeks to fully dissipate. Another issue is known as paradoxical adipose hyperplasia (PAH), which is an enlargement of fatty tissue. While complications are always possible, PAH only affects an estimated 0.0051% of patients undergoing cryolipolysis (the process by which CoolSculpting works), making it extremely rare and unlikely to occur. 
Our team will go over the safety of the procedure with you in detail before your appointment to help you understand your risks. You will only be recommended CoolSculpting® if we determine you are a good candidate with a low risk of complications, as patient safety is our top priority.
When Will I See Results from CoolSculpting®?
As mentioned above, results from a CoolSculpting® treatment can begin to appear at about three weeks, but final results may take up to three to four months to be fully noticeable. Over the course of several weeks, your body will work to metabolize the targeted fat cells, eliminating them through the lymphatic system. Once destroyed, these fat cells will not return. To keep other fat cells from forming, a balance of both diet and exercise will be essential. For a more defined physique, multiple treatment sessions may be needed.
How Many CoolSculpting® Sessions Will I Need?
Ideally, patients will not have to surpass three sessions of CoolSculpting® treatments to achieve optimal results. While the average range of CoolSculpting®  sessions is one to three, every patient is unique and will likely react in varying ways to the procedure. Our team will develop a comprehensive treatment plan in order to reach your goals, and a timetable will be created in order to inform your expectations.
How Much Does Coolsculpting® Cost?
The cost of the CoolSculpting® process will depend on the patient's needs, the targeted areas, and how much work is being done. During your initial consultation, our team will be able to provide a close estimate of the final cost to ensure there are no financial surprises. Generally, the average cost of CoolSculpting® is between $2,000 and $4,000. In addition to accepting all major credit cards, our practice wants every patient to receive the treatment they desire and offers financing options such as CareCredit® that can help patients pay for their procedure.
Additional CoolSculpting® Frequently Asked Questions (FAQs)
Below we have compiled a list of questions our patients commonly ask us before selecting a treatment with CoolSculpting®. If you would like to learn more about this non-invasive treatment, please look through the information below. 
Which Parts of the Body Can Be Treated with CoolSculpting®?
CoolSculpting® can be used to treat areas on the body with excess fat pockets such as the stomach, hips, thighs, and back. 
Is CoolSculpting® Painful?
Our staff makes every effort to minimize the potential for pain throughout the treatment process. Most of our patients report experiencing no pain at all, which is why we do not administer an anesthetic for your appointment. Since the cooling energy gradually causes the treatment area to become numb, patients typically experience minimal discomfort throughout their session.
How Old Do You Have to Be to Get CoolSculpting?
CoolSculpting® is limited to adults above the age of 18 years old. All patients are evaluated during their initial consultation in order to determine if they make ideal candidates for CoolSculpting® treatments. However, evaluations are only administered to those who are 18 years or older. If it is determined that you are an ideal candidate, our team will then develop a comprehensive plan to meet your goals.
How Long Does Swelling Last After CoolSculpting?
As with many non-surgical and surgical procedures that are used to enhance one's body, there will likely be some swelling that patients experience following their CoolSculpting® treatment. Typically, patients will only experience swelling or puffiness for several days before it fades; however, some patients may endure lingering swelling for several weeks. Some degree of swelling will likely occur with each CoolSculpting® session. All swelling from CoolSculpting® should dissipate over time as optimal results slowly begin to be seen. 
If you have any additional questions, or if you would like to schedule an appointment, please contact us today.