KYBELLA®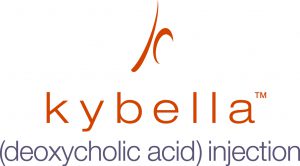 Excess fat beneath the chin (medically known as submental fullness) is a common cosmetic concern among women and men. Even patients who eat a nutritious diet and exercise regularly can notice fat beginning to accumulate under the chin simply due to the natural aging process. To address this issue, the Dermlounge at Richmond Aesthetic Surgery offers an innovative non-surgical treatment called KYBELLA®. With this treatment, patients can improve the contours of their chin and neck by breaking down excess fat, ultimately minimizing the appearance of a "double chin."
How Does KYBELLA® Work?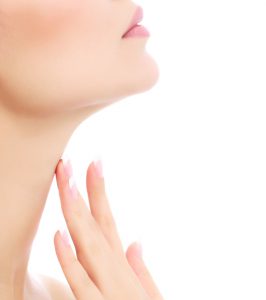 KYBELLA® is designed to target and dissolve excess fat cells beneath the chin. This non-surgical injectable treatment is the only of its kind to be approved by the FDA. KYBELLA® is formulated with deoxycholic acid, which actively breaks down fat cells. This ingredient is also found naturally in the body. After the fat is broken down, the unwanted cells are metabolized and removed by the body. A typical KYBELLA® treatment session takes approximately 20 minutes to complete and can be performed right in our office. Patients can then begin to notice increased definition of their chin, and many people experience a boost in confidence after seeing the results.
Am I a Good Candidate for KYBELLA®?
During the consultation process, one of our medical skin care experts will perform a physical exam, thoroughly review your cosmetic concerns, and determine if you are a candidate for KYBELLA®. Most patients with excess fat beneath the chin or the top of the neck are considered good candidates. However, patients who also have loose or hanging skin below the chin may better benefit from a plastic surgery procedure, such as necklift surgery. KYBELLA® is not designed to address excess skin laxity. Depending upon the volume of excess fat and the cosmetic goals of the patient, 2-4 KYBELLA® treatment sessions may be scheduled to maximize the impact of the results.
Are There Any Side Effects from KYBELLA®?
To enhance patient comfort during the KYBELLA® procedure, a numbing agent will be applied to the skin at the injection site. Some patients may experience mild bruising, swelling, or numbness following treatment. Patients who experience these side effects should see them dissipate within about 2-3 days. Most patients return to work immediately after their KYBELLA® appointment.
Contact Us
To learn more about KYBELLA®, or to schedule a consultation at our medical spa, please contact our office today.