How to Prevent Chest Wrinkles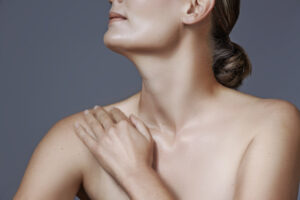 Many people regularly moisturize their face and use skin creams to slow the formation of wrinkles, but they often neglect another area that will eventually develop these lines: the décolletage or chest. Just as men and women will care for their face to maintain youthful-looking skin, our aesthetic professionals at Dermlounge encourage people to treat their neck and chest in the same way.
Similar to the face, the chest is prone to wrinkles and deep creases due to the natural aging process, sun damage, and other lifestyle habits. The skin begins to lose collagen and thin, making lines more prominent and requiring more advanced treatment. As is the case with most skin care concerns, the best treatment for chest wrinkles is prevention. Our skin care team recommends patients take care of the delicate skin on their chest in a similar way to their face, which includes the following tips:
Wear sunscreen with an SPF of 30+ daily
Avoid excess sun exposure and tanning
Don't smoke or use tobacco
Include this area in your anti-aging skin care routine
Unfortunately, even with the right preventative measures, chest wrinkles cannot be completely avoided. For those who are unhappy with sun spots, wrinkles, and other cosmetic concerns affecting their décolletage, our team can create a custom treatment plan to provide rejuvenating results. In addition to medical-grade skin care products and chemical peels, we often suggest laser or light-based treatments, such as intense pulsed light (IPL) and BroadBand Light (BBL™) therapy, to address unwanted wrinkles on the chest. These solutions work by gently heating the outer skin layer to promote collagen production, helping to smooth uneven skin texture.
For more information about how to maintain youthful skin, as well as which treatment is ideal for your unique concerns, please contact us to schedule a consultation.
Previous Post
Next Post